Hello everyone- first and foremost, thank you for your continued patience. Throughout this project I've had to remind myself several times that the mantra is "get it done
right
" and not just "get it done
quickly
". There have been a few instances throughout production where something could've been pushed into existence a bit faster, but in the end someone in the band (and/or myself) wouldn't have been happy with the results... so I am writing now to explain where things are, and where they should be soon.
First off, the biggest/best news: the vinyl test presses finally came in & are APPROVED. This process took a whole lot longer than expected due to several hurdles, but in the end it was worth taking a slower pace as the vinyl sounds exactly the way it should. This is a major relief, as if there were any additional problems the whole release would've been set back even further.
Surprisingly related however, is the nearly-completed 32-page booklet... which may've been just "completed" if the test press process had moved a little faster. Given the extra waiting time for the tests, we used it to spruce up our existing designs a bit... and unraveling that thread really lead to a total re-vamping of the booklet, which now everyone is much happier with. There're a lot of different personalities to cater to in a project such as definitive (and massive) as this, so I'm glad that everything's been re-worked with the booklet. As it stands right now it's about 90% completed, and should be fully finished within another week or so. This is THE last piece of the puzzle to enter production, as everything else is either in production currently, or already finished.
So I believe I can safely say that we are almost in the "final throws" of manufacturing this monster project. I want to personally apologize for the delays to those who pre-ordered so early, but you doing so has literally enabled this project to exist! I also sort of underestimated how encompassing the production of this would be: it's almost like a whole year's worth of releases condensed into ONE project, so a few things have taken longer than I predicted. But to reiterate the release mantra, "best to do it
right
", and I truly feel this beast will be exactly what we all hoped it would be.
The above photo (
click for a larger version
) is of 1 of the 5 sets of test presses, spread out on the original backdrop the band used for the "self titled LP" photos. We ordered 12 full sets so there'd be extra copies for additional band members, some to do contests/giveaways with, etc... but all we actually received were 5, so I imagine everyone who currently has a set will covet it for a long while.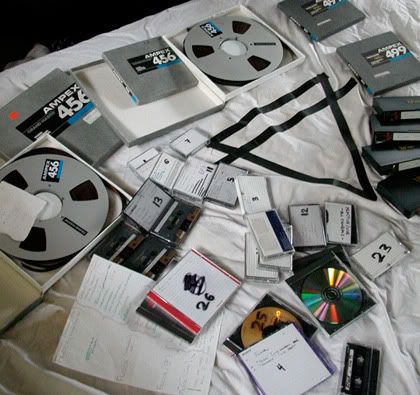 This photo shows just a portion of the master elements used to create the final 10 LPs, 1 7" and 8 CDs that contain a decade+ of audio recordings for
FLOOR
. We're talking almost every type of semi-current format that exists, all being collected and compiled into a single body of work. This isn't complete, nor does it show the sea of photos, artwork and other elements that all joined forces to create the
Below & Beyond
box set. Even after 10+ years of running this label and releasing other comprehensive discographies as well, I can easily say that this is the biggest project I've been apart of to date and I personally CANNOT WAIT until it is finished!
This image (
click for a larger version
) shows a partial concept-to-completion of ONE page of the booklet, a merging of the
FLOOR
symbol and
PINK FLOYD
's
Dark Side Of The Moon
. This is just a single element of this beast, yet it took a few different paths and multiple revisions to finally nail down to a fully completed page that everyone could agree on. I show you this to illustrate how involved every element of this project has been, and also because I think the images are cool.
* Top left panel = Anthony's original concept drawings
* Top right panel = original Floor website artwork I tried to salvage/scavenge (artist unknown)
* Bottom left panel = Lyn's first attempt at detailing/colorizing from a printout of Anthony's original drawing
* Bottom right panel = Lyn's fully re-created painting, from scratch, post-cleanup
I wanted to include a little something to show you how much thought and time is going into every element of this release, and also simply because I'm really happy on how this concept turned out in the end.
And certainly not least, but very likely last...
FLOOR
is planning on reuniting for 3 live performances come March and April of this year. All credit is due to the band members for executing this, and as much as I've wanted this for years, I sorta knew better than to push for it. Regardless, I'm beyond thrilled that this is actually happening, and cannot wait to see them bring it live after so many years. A segment from the forthcoming "formal" announcement:
"Floor has confirmed that they will be getting together to play a few shows in the South East. Dates include: April 2nd in Gainesville and April 3rd in Atlanta. A Miami date is also set for March 27th. In keeping with the chronology and theme of the Below & Beyond box set, the shows will reflect the lineups of each era of the band: Betty will be playing drums for songs from the early days, followed by Jeff on drums from the Dove era, and end with Henry stomping his way through the Self-Titled album. And, of course, Steve and Anthony on vocals and guitars."
These shows should rule, and there are talks of a film crew being on hand to document the performances as well. The box set should be in your hands well beforehand so you'll have plenty of time to bone up on the material, both new and old.
Further announcements will be made when we have more info for you. Thank you again, so much, for being patient and understanding with the slow-moving nature of this enormous project. I appreciate it more than I can really say, and want to do my very best to make this thing worth the wait. Take care,
-Andy / Robotic Empire